Just before COP15 Denmark has gotten its first carbon neutral building - the groundbreaking of the Green Lighthouse. The lighthouse is a part of the University of Copenhagen in Denmark. A place for students to study the future. The spectacular sundial-shaped building is designed by Christensen & CO. The building of course has solar-cells on the roof, it has intelligent solar shades, the led-light automatically adjust to daylight, there is natural ventilation, and surplus heat from the summer is not just pumped out with energy using air conditioners, but the heat is stored deep under ground and pumped back into the building during the cold winter.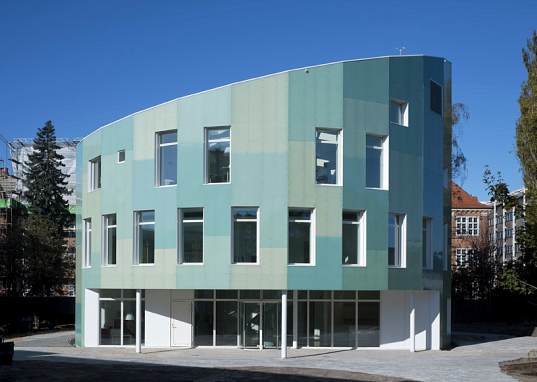 During the COP15 Conference you will be able to come in and see the student services center. The building is hoped to be of inspiration to the negotiators and serve as proof that carbon neutral buildings are possible with good design and planning. 75% of the energy reductions achieved is due to a good, well-thought architectural design, and not as we always hear of, caused by fancy technology.

Read more about the house and see a presentation movie here.